23, 24 and 25 October 2023

Study sessions organised by La Virreina Centre de la Imatge, the Global Art Archive (GAA) research project of the University of Barcelona and ARXIU/AM.

Free entry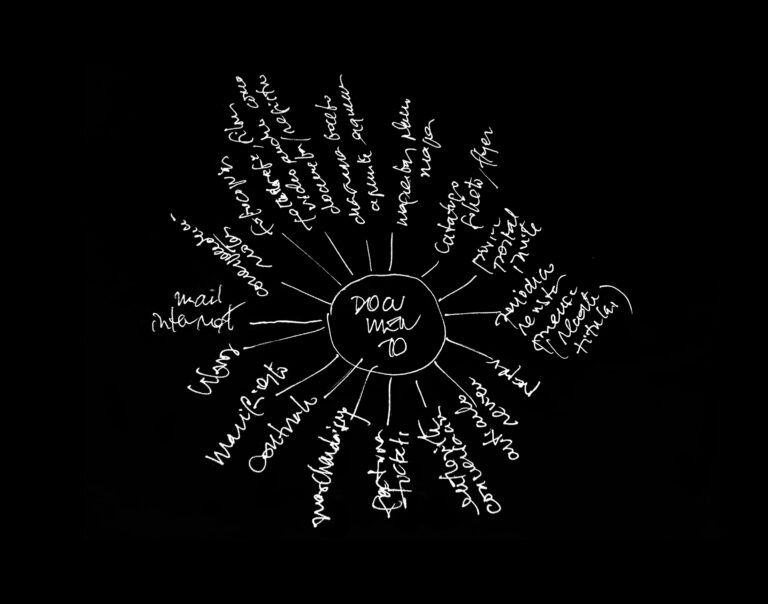 In contemporary modes of exhibiting art, artworks are frequently presented as the product of artistic activity together with the documents or materials that accompany them, contextualize them and enhance their meaning. In the mid-20th century a complex artistic space began to open up in which research, creation and records overlapped, and their coexistence has generated constant frictions that influence both the production of art and the institutional sphere. Documents have gradually become increasingly visible, while the line that distinguishes artworks from documents has been blurred, in a process that the multiplication of artistic trends and the emergence of new media and formats have only accelerated.
This situation raises many questions. From an economic perspective, what are the causes and consequences of the increase in the exchange value of documents? In curatorial and historiographical research, what informational value is given to works, and what to documents? Are the institutions carrying out the appropriate museumization, or is the visitor being saturated with more and more data and elements parallel to the artistic work? In collections, are the use value of documents and their accessibility to researchers still guaranteed? Finally, in artistic practice, what is the authorial responsibility in relation to the various methodologies of research and accumulation of data that are used today?
The Study Sessions AFTER THE ARCHIVE: ARTWORK AND DOCUMENTS propose to open a debate on what artworks and documents are and what they represent today. The conference will have two parts: the Faculty of Geography and History of the Universitat de Barcelona will host a seminar in the mornings, and in the afternoons there will be panel sessions open to the public at La Virreina Centre de la Imatge, in a hybrid format with both in-person and online speakers. Both events are based on the framework of the debates on art and archives that have become increasingly common since the mid-twentieth century, but they take on a different meaning and a specific point of view. Based on the approaches of several professionals who play different roles in the field of art, the dialogue will focus on the analysis of the features that distinguish artworks from documents, the two main significant elements in artistic creation.
Organized by La Virreina Centre de la Imatge, the Global Art Archive (GAA) research project of the Universitat de Barcelona, and ARXIU/AM.
PROGRAMME
Monday, 23 October at 7 p.m. – La Virreina Centre de la Imatge (Space 4) – TALK
Claire Bishop – Information Overload
Facilitators: Antoni Muntadas and Valentín Roma.
Claire Bishop is an art historian and critic who has been based at the PhD Program in Art History at CUNY Graduate Center (New York) since 2008. Her books include Artificial Hells: Participatory Art and the Politics of Spectatorship (2012), which won two awards, Radical Museology, or, What's Contemporary in Museums of Contemporary Art? (2013) and a book of conversation with the Cuban artist Tania Bruguera (2020). She is a contributing editor of Artforum and her writing has been translated into twenty languages. She has two books forthcoming: Merce Cunningham's Events: Key Concepts and Disordered Attention: How We Look at Art and Performance Today.
Antoni Muntadas (Barcelona, 1942) works on social, political and communication issues, as well as the relationship between public and private space within a social framework. He investigates information channels and the way in which they are used to censor information or spread ideas. He carries out projects in media such as photography, video, publications, internet and multimedia installations. Since 1995 he has been grouping a series of works and projects under the name On Translation. They are works of very diverse content, dimensions and materials, and they all revolve around his personal experience as an artist in many countries for more than forty years. By grouping the works under this heading, Muntadas places them within a body of specific experiences and concerns about communication, the culture of our time and the role of the artist and art in contemporary society.
Tuesday, 24 October from 9:30 a.m. to 1:30 p.m. – Faculty of Geography and History of the University of Barcelona (UB) – Aula Magna. PANEL 1
10:00 – 11:00 a.m.: Henar Rivière (Complutense University of Madrid) – From 15M to the Lafuente Archive: works, documents and other artifacts.
11:30 a.m. – 1:30 p.m.: Presentations by the researchers Mónica Bernabé, Graciela Carnevale, Renata Defelice, María Magaly Espinosa Delgado and Annemarie Kok.
Henar Riviere is a professor in the Department of Art History of the Complutense University of Madrid. She has been Head of Research and Projects at the Lafuente Archive in Santander, as well as the principal researcher of the project "OBASA and Artpool: Collecting, connecting, activating. The Active Archive as a cultural alternative on the global stage" (2021-2022). She recently edited Materia de escritura. Entre el signo y la abstracción en la época del intermedia (1950-1980) (with A. Romero, Editorial CSIC, 2022) and the volume on "Arte y archivo" of Anales de Historia del Arte (Editorial Complutense, 2022). 
Full programme: https://globalartarchive.com/actividades/obra-y-documento/
Tuesday, 24 October at 7 p.m. – La Virreina Centre de la Imatge (Space 4) – WORKSHOP
Research / Museumization / Market value
Pedro Barbosa, Manuel Borja-Villel and José de la Mano. Moderator: Mela Dávila
Pedro Barbosa is a former trader. In 1999, he started a collection, the Coleção Moraes-Barbosa (cmb), focusing on conceptual art and video works by local and global artists. The 20,000 printed matter items that form part of the collection are used as research material by artists, curators and researchers. cmb also has a project space open to the public in São Paulo showcasing artists and projects from the collection. Barbosa is a board member of Electronic Art Intermix (EAI), Kunstwerk Berlin (KW), and the Museum of Modern Art (MoMA) Media and Performing Art Committee.
Manuel Borja-Villel is an art historian. He graduated in 1980 from the University of Valencia and completed his studies at Yale University and the City University of New York (CUNY). He was director of the Museo Reina Sofía for fifteen years, and also directed the Fundació Antoni Tàpies and the Museu d'Art Contemporani de Barcelona (MACBA). He has been a member of the International Committee for Museums and Collections of Modern Art (CIMAM) and the Advisory Committee of Documenta 12 in Kassel, in addition to presiding over the jury of the Venice Biennale in two editions.
Mela Dávila Freire is a researcher, curator, writer and translator. Her area of work covers the genre of artist publications (which she approaches from a feminist perspective), in addition to art archives and bibliographic collections, a field in which she is particularly interested in the theoretical and practical intersections between archiving and art collection and the ideological biases of archival structures.
José de la Mano has a doctorate in Art History from the Complutense University of Madrid and has worked as an adjunct professor at the Autonomous University of Madrid. He is also a corresponding academic of the Royal Catalan Academy of Fine Arts of Sant Jordi.
In his gallery, founded in 2005, he is a pioneer in defending the artists of the Centro de Cálculo, one of the transcendental artistic episodes of the last years of the Franco dictatorship. In recent editions of ARCOmadrid. He has made proposals such as the recovery of the monumental interpretation of Picasso's Guernica painted during the transition to democracy by Agustín Ibarrola, which was acquired by the Museo de Bellas Artes de Bilbao. Also at ARCO, three editions ago, he presented a project on forgotten women of the 1960s and 1970s, which recovered, among others, the memory of the Catalan artist Aurèlia Muñoz, who is represented today in the collection of the MoMA in New York.
Wednesday, 25 October from 10:00 a.m. to 1:30 p.m. – Faculty of Geography and History of the University of Barcelona (UB) – Aula Magna. PANEL 2
10.00 – 11.00 a.m.: Wolfgang Ernst (Humboldt University of Berlin) – Artwork / Document in Times of Technical Signal Processing. A Media-Archaeological Analysis.
11:30 a.m. – 1:30 p.m.: Presentations by the researchers Eirini Grigoriadou, Giorgia Ravaioli and Paul Mellenthin.
Wolfgang Ernst developed his work in the emerging technology-oriented "German School" of media science. His academic activity focused on the theory of archives and museology before dealing with media materialities. Since 2003, Ernst has been an associate professor of Media Theories at the Institute of Musicology and Media Science of the Humboldt University of Berlin. His current research encompasses "radical" media archaeology as a method, technologist epistemology, technical storage theory, technologies of cultural transmission, microtemporal aesthetics of media and its chronopoetic potentials, and sound analytics ("sonicity") from the epistemological viewpoint of the media.
Full programme: https://globalartarchive.com/actividades/obra-y-documento/
Wednesday, 25 October at 7 p.m. – La Virreina Centre de la Imatge (Space 4) – WORKSHOP
Creation / Criticism / Media
Frederic Amat, Mariana Castillo Deball and Ángela Molina. Moderator: Pablo Santa Olalla
Frederic Amat is a painter whose work defies any single form of categorization. His work has been exhibited and published all over the world. His open conception of painting has led him to integrate multiple artistic languages into his creative work. He has created sets for dance and theatre based on texts by García Lorca, Beckett, Juan Goytisolo, Koltès and Octavio Paz. He has directed and assembled the sets of the opera El viaje a Simorgh by Sánchez Verdú and the oratorios Oedipus Rex by Stravinsky/Cocteau and Maddalena ai piedi di Cristo by Caldara. He has also illustrated various literary works. In his interventions in architectural spaces, he has carried out projects that combine painting, sculpture and ceramics. He has also taken painting to the field of cinematography in films such as Viaje a la luna, Foc al cántir, El aullido, Danse noire and Deu dits.
Mariana Castillo Deball graduated in Fine Arts from the National Autonomous University of Mexico in 1997, and in 2003 she completed a graduate programme at the Jan van Eyck Academie in the Netherlands. In her work she takes a kaleidoscopic approach, mediating between science, archaeology and the visual arts and exploring the way these disciplines describe the world. Seeking to initiate a dialogue with institutions and museums outside of contemporary art, she collaborates with ethnographic collections, libraries and historical archives. Her installations, performances, sculptures and projects are the result of long research, and her work has been recognized through awards such as the Prix de Rome (2004) and the Preis der Nationalgalerie (2014).
Ángela Molina is a philologist. She has a degree in Literary Theory and Comparative Literature from the Universitat Autònoma de Barcelona (1993-95) and a doctorate from the Pompeu Fabra University of Barcelona. From 1994 to 2001 she worked as an art critic for the culture supplement of the newspaper ABC. Since 2002, she has regularly contributed to the Art and Literature sections of the supplements Babelia and Quadern of the newspaper El País and the culture section of the same newspaper. She has been director of the symposium "Los Lugares de la Crítica" (2009), organized by the Public University of Navarre and the Jorge Oteiza Chair, together with the Museo Reina Sofía, and she coordinated the book that was published from the symposium.
Pablo Santa Olalla is a postdoctoral researcher at the Art History Institute of the Universidade Nova de Lisboa. He is a member of the work team of the Global Art Archive (GAA) academic research project and is a regular collaborator of the Muntadas Archive Association. Centre for Studies and Research (ARCHIU/AM).
En coproducción con: